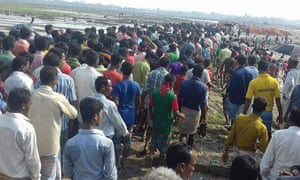 by Aurora Brachman
Bangladesh has plans to dramatically expand its energy production through coal in the next few years with the assistance of China, Japan, and India. But has not indicated any plans to expand renewable energy development. Other Asian nations have been setting their sights on renewable forms of energy because of an increasingly worsening pollution crisis in the region. The government hopes to expand its use of coal from 2% to 50% of Bangladesh's electricity supply by 2022. There have been vehement protests about this expansion, particularly against a specific plant currently under construction; several people have lost their lives amidst the protests.
Finding new sources of energy is critical to Bangladesh. In 2009, only 47% of the country had access to electricity, but by 2017, 80% of Bangladesh's 160 million people have access to electricity. The country currently relies primarily on natural gas but its reserves are quickly being depleted, thus the interest in shifting to greater reliance on coal. In 2014 the country's finance minister outlined a plan to have 5% of the country's energy come from renewable sources by 2015. As of now, two years past the intended deadline, it has failed to do so.
Although solar has great potential in Bangladesh, it has been largely unsuccessful because of a lack of available space to put the panels. Although, their use has been invaluable in remote and rural areas that otherwise would not have access to electricity.
Because of the affordability of coal, the government feels it has no other option but to pursue its use, but it has not factored in the cost of the environmental and health repercussions. Bangladesh is also uniquely vulnerable to climate change, another sad irony of its decision to expand coal production.
Chowdhury, Kamran R. "By stepping up use of coal, is Bangladesh staring at a grim future?" Scroll.in. N.p., n.d. Web. 14 Feb. 2017.
(https://scroll.in/article/828920/by-stepping-up-use-of-coal-is-bangladesh-staring-at-a-grim-future)
Chowdhury, Kamran R. "Bangladesh bets on coal to meet rising energy demand." Climate Home – climate change news. Climate Home, 09 Feb. 2017. Web. 14 Feb. 2017.
(http://www.climatechangenews.com/2017/02/09/bangladesh-bets-on-coal-to-meet-rising-energy-demand/)