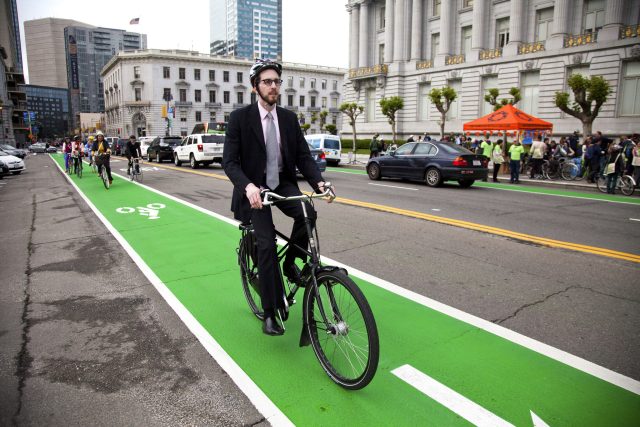 by Genna Gores
With the inauguration of Donald Trump, and a cabinet full of climate deniers, it is now up to states to lead the charge in the fight against climate change. California, a trailblazer in climate change initiatives, will be very important in the upcoming four years to help lead the country on green initiatives. Even before the Trump Administration took office Scott Wiener, D-San Francisco—a newly elected California state senator—started proposing a new solar panel legislation.
This legislation bases itself off of a bill, Better Roofs Ordinance, that passed unanimously in San Francisco in 2016, which Wiener also proposed while he was while he was the County Supervisor. It required all new commercial and residential buildings between zero to ten stories to install solar panels on 15% of their roofs (taller buildings are excluded from the bill because powering them through solar panels poses too much of challenge to be required by city/state laws). [https://medium.com/@Scott_Wiener/lets-require-solar-panels-on-all-new-buildings-in-california-cb18fe9d9ec4#.b71kzqib6] With just this ordinance San Francisco is able to eliminate 26.3 million tons of carbon dioxide annually.[1] San Francisco is one of four cities in the US that passed a solar panel bill, and if California passes this future legislation it will be the first state to take on this challenge. [https://qz.com/665574/san-francisco-will-require-new-buildings-to-install-solar-panels/]
Passing legislation in a small county like San Francisco is clearly much simpler than at the state level, especially a state as big as California. Currently, though, California already has legislation that requires all new residential and commercial buildings to have "solar ready" roofs, where Wiener's legislation takes it one step further by saying this buildings need to be "solar installed."[ https://medium.com/@Scott_Wiener/lets-require-solar-panels-on-all-new-buildings-in-california-cb18fe9d9ec4#.b71kzqib6]California is already producing 15,000 mega watts of solar energy (enough energy to power 3.7 million homes), and enforcing solar panels can only increase renewable energy production.[2] It will also help California reach its goal of lowering greenhouse gas emissions by 40% below 1990 levels by 2030, which is a tough feat that needs harsh legislation like the Better Roofs Ordinance. [http://www.latimes.com/politics/la-pol-ca-jerry-brown-signs-climate-laws-20160908-snap-story.html]As with any bill proposed there will be opposition, and the current argument is over cost of the solar panels. In California the housing market is skyrocketing, and people are worried that this ordinance will only raise prices. Builders will have to spend more money to install these panels, and thus the new cost will be put on buyers (with a higher selling price for buildings). [http://www.sfchronicle.com/bayarea/article/Scott-Wiener-models-state-solar-bill-on-S-F-law-10843577.php] Despite this opposition Wiener believes that the overall energy savings from having solar panels will outweigh the initial cost, and or builders can utilize third party companies that will own and maintain the panels.
https://medium.com/@Scott_Wiener/lets-require-solar-panels-on-all-new-buildings-in-california-cb18fe9d9ec4#.b71kzqib6
http://www.latimes.com/politics/la-pol-ca-jerry-brown-signs-climate-laws-20160908-snap-story.html
http://www.sfchronicle.com/bayarea/article/Scott-Wiener-models-state-solar-bill-on-S-F-law-10843577.php