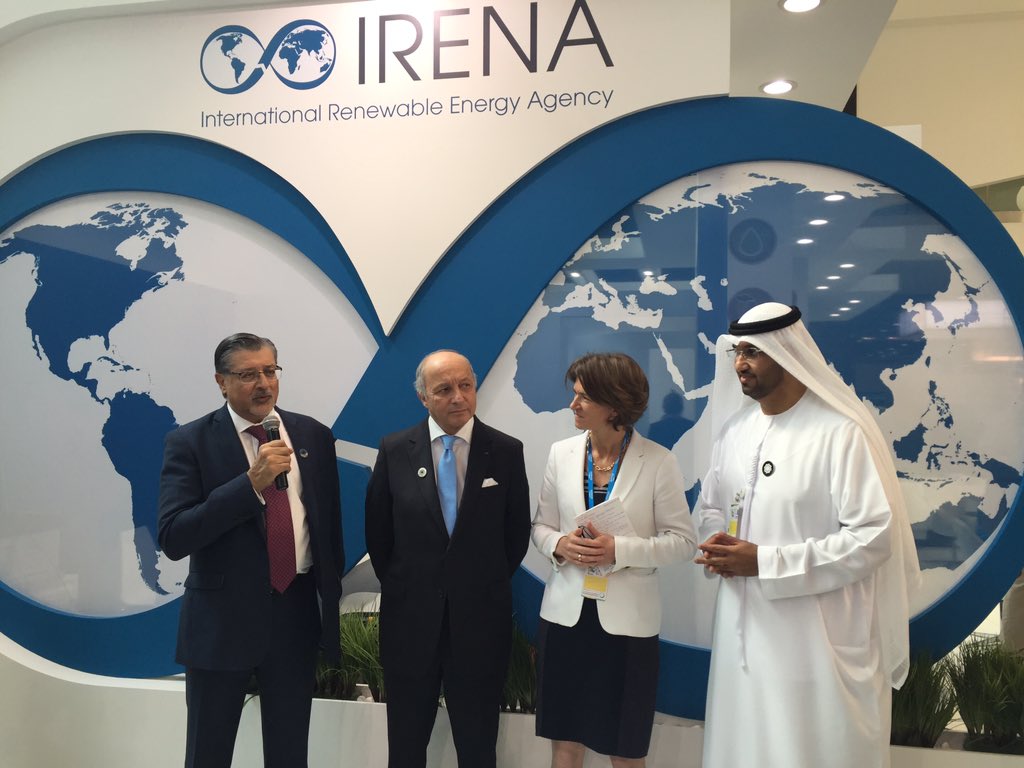 by Woodson Powell
The International Renewable Energy Agency (IRENA) has partnered with French multinational electric utility company ENGIE (formally known as GDF Suez) to increase solar power production. In December of 2015, ENGIE CEO Gérard Mestrallet announced the Terrawatt Initiative which calls for one terawatt of additional solar photovoltaic capacity to be installed by 2030, and includes an additional $1 trillion of investment for solar power infrastructures [http://cleantechnica.com/2016/01/19/irena-partners-engie-terrawatt-initiative/]. Since then, IRENA Director-General Adnan Amin has met with Deputy CEO and COO of ENGIE and first Chairman of the private sector Terrawatt Initiative, Isabelle Kocher, to assist in ENGIE's efforts. Possible areas of future cooperation include reducing the cost of technology for solar generation assets, supporting industrial capacities via implementation of appropriate regulatory frameworks and risk mitigation instruments, and developing a systemic approach for the integration of renewables, paving the way for later solar energy storage and technology solutions that meet each country's specific needs [http://irenanewsroom.org/2016/01/18/irena-and-terrawatt-partner-for-massive-solar-scale-up/].
The Terrawatt Initiative is simply the most recent of plans ENGIE has had to boost its energy production, as it is already the second-largest generator of electricity in France, the largest in Belgium and the Netherlands, and is the fifth-largest generator in Europe overall [http://www.engie.com/en/group/our-international-presence/]. Also, 64% of ENGIE's production comes from renewable sources, but that is mainly hydroelectricity and wind power. This marks the first big move for the group in the realm of solar power.
By investing large amounts in renewable energy, not only is the Terrawatt Initiative helping to reduce Europe's carbon footprint, but it should also be very financially beneficial for ENGIE and future renewable energy providers. With oil prices at an all-time low, alternative energy sources seem to be more profitable in the long-run, because consumers seem to be investing in more diverse forms of energy, such as solar, as opposed to traditional gasoline. This could even have the compound effect of incentivizing more companies to create large-scale clean energy projects, making clean energy more easily accessible to the public, while still reducing our collective carbon footprint.
Hill, Joshua S. "IRENA Partners With ENGIE For Terrawatt Initiative." CleanTechnica. Sustainable Enterprises Media, Inc., 19 Jan. 2016. Web. 25 Jan. 2016.
"IRENA and Terrawatt Initiative Seek Massive Solar Scale-up." Engie.com. ENGIE, 18 Jan. 2016. Web. 25 Jan. 2016.
"IRENA and Terrawatt Partner for Massive Solar Scale-Up." IRENA Newsroom. IRENA, 18 Jan. 2016. Web. 25 Jan. 2016.
"Our International Presence." ENGIE: An Established International Player. ENGIE, 2015. Web. 25 Jan. 2016.